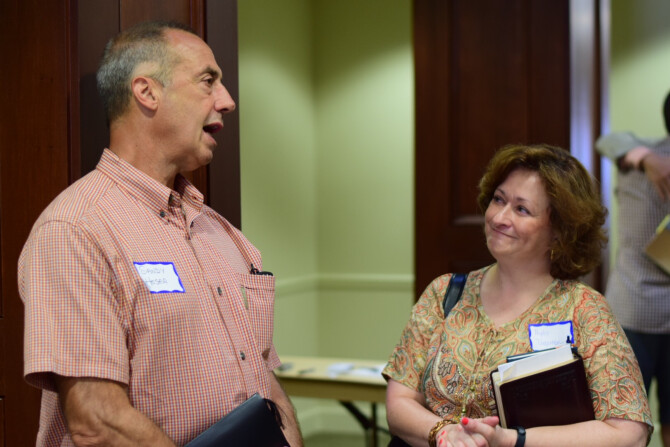 If you have always wanted to have a firm and basic understanding of God's Word, then this course is for you! We approach our study of the Word by seeking to understand how God is building His Kingdom across time and human history. We incorporate the overall outline of the Bethel Bible Series as the backbone of our study, but we expand further by incorporating each book of Scripture.

Our class time is comprised of an hour of lesson presentation followed by about an hour of discussion, Q&A, videos or other means of assisting us to apply what we have studied.
The primary requirement or "homework" will be to read the assigned Scripture before class. Our purpose is to know God's Word...and we accomplish that by spending time meditating on His Word.
Although the course of study is divided into four semesters (Old Testament I and Old Testament II; New Testament I and New Testament II), one may register for any one semester at a time. Although it is ideal to take the courses sequentially, it is not required.
Bethel Discipleship Fall Class Begins Soon!
"By the word of the LORD the heavens were made, their starry host by the breath of his mouth...For he spoke, and it came to be;
he commanded, and it stood firm." (Psalm 33:6,9 NIV)
The word of God is powerful…the Word of God reveals God to us. The words of God reveal who we are. And the Word of God reveals to us the beauty and glory of His majesty, mercy and grace. As we study the word of God we deepen our relationship with Him. There is a wonderful opportunity coming this Fall to do just that!
This fall we will begin with Old Testament part I, Genesis through Joshua. Our journey begins Wednesday, August 16th and continues through November 15th. We will meet on Wednesday mornings from 10 am till 12 noon. (There is a nominal fee of $25 to cover the cost of materials.) You may register through the link below, by calling the church office, or by emailing Phyllis Pemerton at .
Register Online or
Contact Phyllis Pemerton
706-767-8347

or the Church Office