Children's Events
CAMP 456 2019 - Inside and Out
This past Memorial Day weekend we took 27 rising 4th, 5th, and 6th graders and 25 leaders to Ocoee, TN for our annual Camp 456! What a glorious weekend! We had a blast worshiping, growing our faith in Christ, playing games, going down this huge super-fast water slide and more! We had little lives coming to ask Jesus into their hearts this past weekend. Thank you to our speaker Dr. Jonathan Schwartz for helping our campers to understand what it means to be transformed from "Inside Out" for Christ.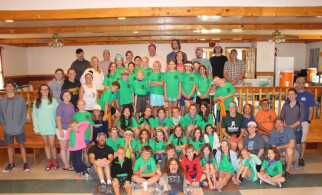 Vacation Bible School 2019
Our Children's Ministry Director, Mrs. Andrea and our VBS Directors, mom and daughter, Mrs. Joan and Mrs. Natalie are most grateful for what God did in the lives of 256 children and 170 plus volunteers and Nursery workers at ROAR! Life is wild, God is Good VBS. We are grateful for our church family coming together and showing Jesus to His children this week. We want to extend a special thank you to our amazing directors for a fabulous job! We were able to raise $577.18 to support the Tijuana Mission trip and $577.18 to support Blue Sky Kenya Missions. In addition, our 4th,5th and 6th graders, led by Amy Fulton, packed 480 food bags for Backpack Buddies of Rome Action Ministries. Our leader books, CDs and King Hall decorations were donated to Radio Springs Baptist Church, a small local congregation! Praise Jesus for a glorious week!